New Book Release to Support Deployed Troops and Veterans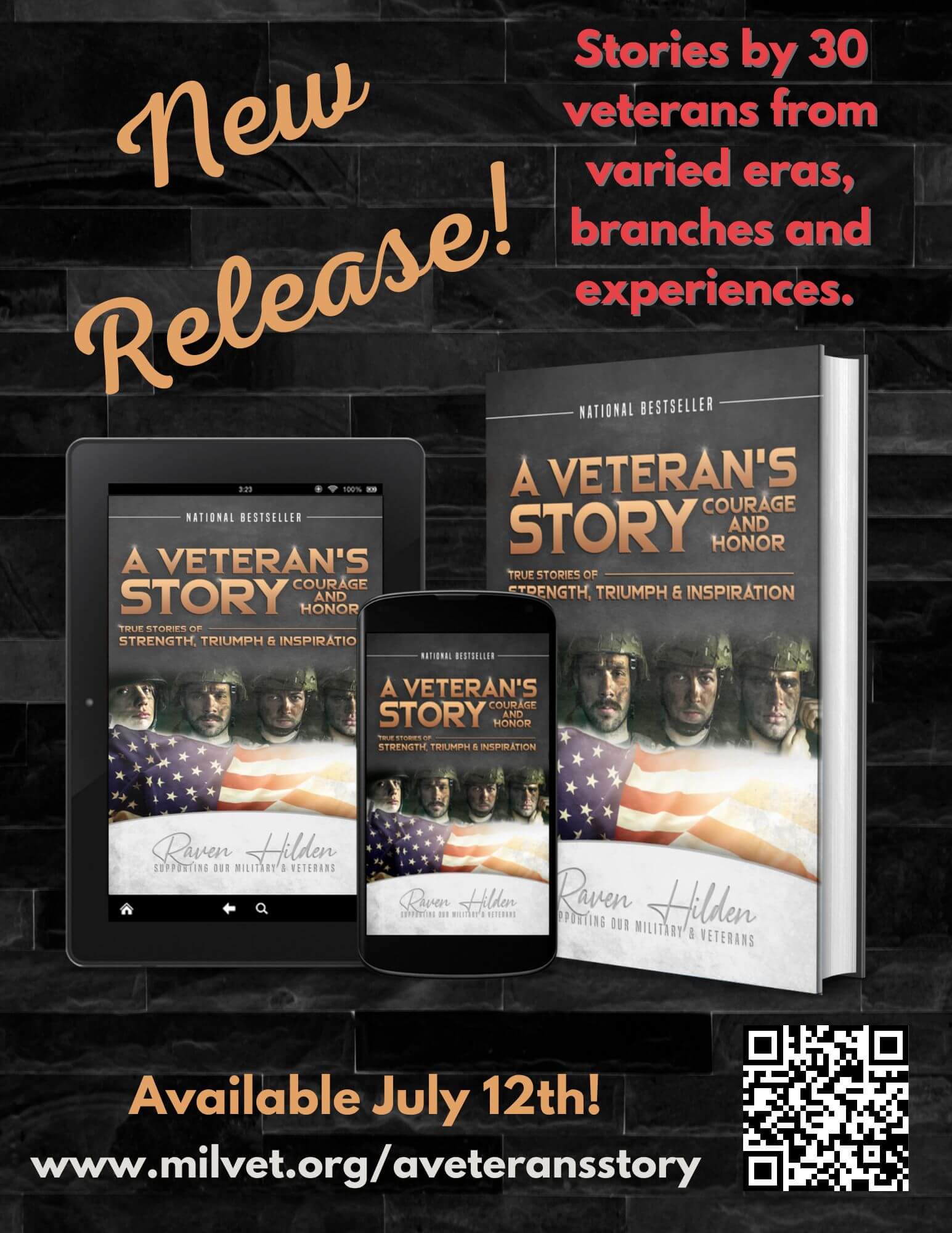 Murrieta, CA: Raven Hilden, CEO of MilVet is releasing a book as a tribute to local veterans on Tuesday, July 12th, 2022 at 10:00 AM. The Amazon link for the ebook and print copies can be found at http://www.milvet.org/aveteransstory. Proceeds to benefit deployed military and veterans through MilVet.org.
About the Book: This book is a touching and inspiring anthology written by 30 local veterans who have served in the United States Military. This is a salute to veterans of all eras and branches highlighting unforgettable experiences and bravery of those who have fought for our country and risked their lives for our freedom. Authors include transitioning veterans, active-duty military, gold star families, women in the military, Vietnam War Veterans, combat veterans and peacetime veterans. Some stories reflect on great loss, courage, challenges and honor. Others emulate a level of patriotism and love for their country that is unmatched. Some stories have never been shared until now. All of the accounts are amazing and inspirational.
Raven Hilden is excited about the book launch and says, "This book started as a way to share veteran's voices and experiences to inspire others. So many veterans in our community have overcome insurmountable odds and I was in awe of what so many in my community accomplished and wanted to give them a platform to share with and inspire others. Many continue to dedicate their lives to selfless service and we all owe a debt of gratitude to them. I found as I read the stories that I learned much more than I expected."
About Raven Hilden: Raven Hilden is the Founder/CEO of MilVet, a nonprofit dedicated to supporting deployed troops, veterans and their families. Some of MilVet's programs include a Military Care Package Program, Veteran Claim Assistance Program, Holidays for Heroes gifts for children, MilVet Jr. a youth program, Emergency Veteran Assistance and more. MilVet recently won Best Nonprofit 2022 by the 67th California State Assembly and Menifee Chamber of Commerce, Best Nonprofit 2021 by the Murrieta/Wildomar Chamber of Commerce and honored as Top-Rated of 2021 from Great Nonprofits. Raven is married to a Marine Corps Veteran, and together they have 5 children and grandchildren. Her passion is to help honor those who serve present and past.
About the Authors: This book is a compilation of 30 authors including: Joe Andersen, Tom Anderson, Benjamin Andrew, Larock Benford, Patrick Burtt, Jose Cortez, Evita De La Cruz, Rod Fink, Maurice Garcia, Rich Gardner, Gary Hawthorne, John Hernandez, Melanie House, John Hudson, Paula Kemp, Sandra Leal, Bryon Lively, Randy Lung, Joe Males, Diana Martinez, Trevor Montgomery, Roland Ortiz, Dereck Rickman, Joe Romley, Ed Samuelson, Chuck Washington, Jason White, Travis Winfield, Jeremy Wisehart,  with a Forward by Altie Holcomb.
For more information contact Raven Hilden at ceo@milvet.org or http://www.milvet.org/aveteransstory