STANDARD PRESS RELEASE
Contact Information:
Menifee Valley Chamber of Commerce General Office
(951) 672-1991
Release Date:
April 27, 2023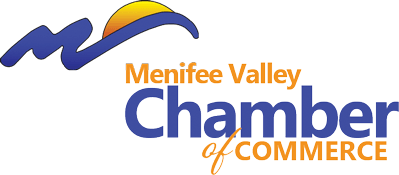 Menifee Valley Chamber Optimistic About Future
Board Investigating Innovative Restructuring Program to Benefit Members
MENIFEE, CA - Menifee Valley Chamber of Commerce President, Maneesha Jones, stepped down from her position effective Friday, April 7, 2023. Ms. Jones joined the Chamber in the middle of the pandemic, which was during a period of uncertainty and declining membership. Under her leadership, the Chamber bounced back with vigor and demonstrated unprecedented growth. In fact, Chamber membership grew exponentially since she was appointed to her position. Ms. Jones is leaving a legacy of successful service to the community. Her departure is voluntary and the Chamber Board of Directors wishes her all the best in her future endeavors.
The Board of Directors will be using this change in leadership as an opportunity to innovatively and strategically restructure the Chamber to provide even better service to Chamber members. The Board is both excited and optimistic about the future. John Pironti, Menifee Valley Chamber of Commerce's Chairperson of the Board of Directors, said, "This is the right time to pivot for the future of Menifee business community. The chamber's main commitment is to the business community."
During this time of transition, the Chamber's commitment to its members remains a top priority. The Chamber office will remain the same, Monday - Friday from 9 AM to 5 PM. Chamber representatives can also be contacted at (951) 672-1991 attention general office staff. Any messages left will be returned within 24 hours.
Most importantly, Chamber programs, such as the highly anticipated 44th Awards Gala and Silent Auction - "Unlocking the Secret Garden", will continue. The Gala, which will be held on Saturday, April 29, has become a much-anticipated Signature event in the Menifee and Southwest Riverside Region, drawing friends from Menifee and neighboring communities such as Canyon Lake, Murrieta, Lake Elsinore, Wildomar and Temecula. Likewise, the Chamber will continue other programs that provide value to its members, such as networking opportunities, ribbon cuttings, and more.
The future is exciting for the Menifee Valley Chamber of Commerce. If you would like to get involved, please contact General Offices at (951) 672-1991
###